Lifestyle Program
Monday, October 4, 2010
10:00am–11:30am
WSCTC
Wicked Good Chowda Chef Smackdown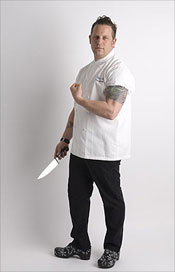 Get in the kitchen with Boston's very own fearless Chef Andy Husbands! Owner of Boston's hottest restaurants, Tremont 647 and Sister Sorel, Andy kicked off his award-winning career with an after-school baking job at age 14 and never looked back. Last summer, he participated in Season 6 of Hell's Kitchen with Gordon Ramsey, who described Andy as a "great chef with a lot of heart." In his "spare time," he competes with friends in BBQ competitions and works closely with one of the country's leading hunger relief organizations, Share Our Strength.
Challenging Andy will be the adventurous and creative Chef Jason Santos! Known for his blue hair and a knack for the molecular gastronomy cooking technique, Jason's ability to make orange gel transform into noodles when it hits the broth is both a culinary masterpiece and a foodie science project. Adding even more fuel to the competitive fire? Jason was mentored by Andy Husbands, is a former executive chef at Husband's Tremont 647 and is a contestant on Hell's Kitchen Season 7!
Andy and Jason will deliver their own unique takes on making "Wicked Good Chowda" for NECA 2010 Boston's Lifestyle Session with the help of their kitchen crews and special kitchen assistants selected from the audience!
While the chowder is cooking and audience members judge, the chefs will dish about Boston's culinary scene with popular on-air personality and local culinary expert Billy Costa.