General Sessions
Opening General Session
Boston Convention and Exposition Center
Sunday, October 3, 2010
10:15am–11:30am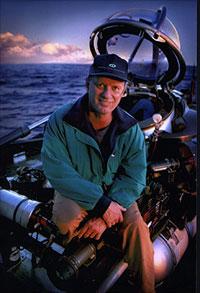 Adventures in Deep Sea Exploration: Living the Dream
When times are tough, it's great to hear from an innovator who has explored the depths and found something that was feared to be lost forever.
Best known for his 1985 discovery of the Titanic, deep-sea explorer Dr. Robert Ballard will be the opening general session speaker at NECA 2010 Boston.
Dr. Ballard has also tracked down other significant shipwrecks, including the German battleship Bismarck, the lost fleet of Guadalcanal, and PT 109, John F. Kennedy's boat. In addition to being a National Geographic Society explorer in residence and a commissioner on the U.S. Commission on Ocean Policy, Ballard is the founder and head of the Institute for Exploration at Mystic Marinelife Aquarium in Mystic, Connecticut.
As an explorer, discoverer and historian, Dr. Ballard's fascinating journeys can teach us a great deal about our past and encourage us to take a deeper look into the unknown.
Labor Relations Special General Session
Boston Convention and Exposition Center
Monday, October 4, 2010
10:00am–11:15am
There are many changes coming this year for Labor Relations. The IBEW has embarked on a nationwide campaign to recover the work that the unionized electrical construction industry is currently not doing. Monday's program is about illuminating those changes to make you, the NECA/IBEW contractor, more competitive in today's marketplace. The program will open with a roundtable discussion including NECA President Rex Ferry, NECA CEO John Grau and IBEW President Ed Hill on the competitive issues and changes that are taking place in our industry. That discussion will be followed by a presentation featuring four NECA members from around the country that have successfully put these new "recovery" programs to work. Don't miss it!
Closing General Session
Boston Convention and Exposition Center
Tuesday, September 15, 2009
09:00am–10:15am
BCEC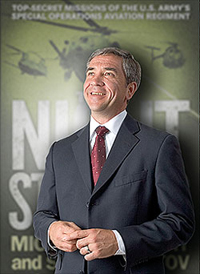 Black Hawk Down: Finding Inspiration in Adversity
Chief Warrant Officer Michael J. Durant was a battle-hardened flight leader and instructor pilot when his MH-60 Blackhawk was blasted out of the sky over Mogadishu, Somalia, on October 3, 1993. He was held hostage by the enemy for 11 excruciating days. His story is told in the acclaimed book Black Hawk Down and the major motion picture of the same name.
A master aviator and highly decorated soldier, Durant will share his story and insight at NECA's Closing General Session. The author of In the Company of Heroes will tell the audience in his own words what his experience taught him. He illustrates the power of teamwork, leadership, and change through awe-inspiring stories and visuals.