NECA 2010 Boston Ends With Magical One-of-a-Kind Performance
Closing Celebration
Tuesday, October 5, 2010
Doors open at 8:00pm
The Fab Four: A Tribute to the Beatles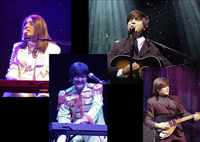 The Fab Four goes beyond every other Beatles tribute with its precise attention to detail. With uncanny, note-for-note live renditions of Beatles' songs, the Fab Four will transport you to an amazing blast from the past.
NECA 2010 Boston attendees will hear record-perfect live performances of such classics as "Can't Buy Me Love," "Yesterday," "A Day In The Life," "Penny Lane," "Here Comes The Sun," and "Hey Jude."
Their incredible stage show includes three costume changes representing every era of the Beatles' ever-evolving career. Dance areas and cash bars will help transport the NECA audience back in time to a Beatles concert experience. You don't want to miss this special show!